Revision Methods: Testing Yourself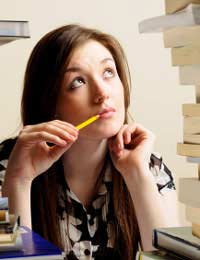 When it comes to revision, learning in an active and engaging manner will help you to understand information and to commit it to memory. Testing yourself is an important aspect of this active learning process. It might seem like an effort, but taking the time to challenge yourself will add a whole new dimension to your study sessions. After all, you will be tested in the exam so it is worth getting used to it from the outset.
Testing Yourself Before You Revise
You might like to try testing yourself before you revise each section of a subject. It might sound like a peculiar technique but you are sure to find that you know and can recall more than you thought. This will inspire you with confidence before your revision has even began.
You will also be able to note which areas you are unsure of, where your weaknesses lie and where you lack the relevant terminology, facts and statistics. This will allow you to focus your revision session, boosting your productivity and ensuring your brain receives a thorough work out. You might also like to test yourself after the revision session. Speak into a tape recorder and try to explain and list all the information you have learnt in the session.
Alternatively, create a large spider diagram, linking together all the facts and arguments that you have worked on. Comparing your test results before and after your revision session will allow you to track your progress.
Test Yourself As You Go
If you are attempting to take in information from a page of text, read it through once then cover it. On a separate piece of paper, try to write down as much as you can remember from the original page, presenting it in a similar manner if you can. This will help you to focus on taking in as much information, as thoroughly as possible. The process really need not take long at all. You may find that you can save time by testing yourself in your mind, visualising the information rather than writing it down. However, if writing things down is especially helpful to you, do take the time to complete the exercise on paper.
Devise Your Own Exams
When learning vocabulary and specialised terminology, devise your own exams that you will be able to mark personally. In this way, you will be able to quantify how much you truly know. For example, you might take a list of twenty English words and give yourself two minutes to translate them into Spanish. Go through and give yourself a score out of twenty. Complete the same test with the same time limit a little later and see how much you have improved. Repeat the test until you get them all right.
Testing yourself will enable you to see where your problem areas lie. You will be able to note your personal weaknesses and those sets of information that you have trouble committing to memory. Once you are aware of these areas, you will be able to focus on them. Tackling your weaknesses in this manner will leave you feeling confident and prepared when it comes to facing the ultimate test: the exam itself.
You might also like...