Reducing Revision Stress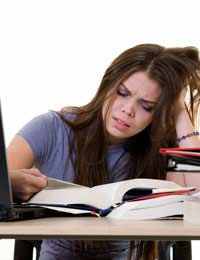 The dreaded revision period can be the most stressful time in your academic life. However, this really need not be the case. By keeping your body and your mind healthy and breaking down tasks into smaller chunks, you can ensure that those busy weeks are manageable and relatively free from stress.
Eat, Sleep and Exercise Smart
Whilst a balanced diet is important at all times, it is especially essential during the revision period. You brain requires good quality food to fuel it and your energy levels must be properly maintained. Try to eat at least five portions of fruit and vegetables as taking in plenty of vitamins will help you to keep illnesses at bay. Don't be tempted to skip any meals or eat foods that are too sugary; both of these dietary pitfalls will wreak havoc with your concentration. Remember that your brain is made predominantly of water and relies on this most vital of fluids to function properly. Make sure that you are drinking at least eight glasses a day. Also, try to increase your intake of nuts and fish as these are the ultimate 'brain foods'. During revision time, your brain works extra-hard. Such long periods of mental activity can leave you feeling tired and lethargic. Try to get at least eight hours sleep a night in order to give your brain the rest it deserves. In this way, you will be able to begin the new day relaxed and focused.In addition, ensure that you are taking part in some form of exercise every day. Go for a brisk walk, play a game of football, do a spot of yoga or go for a swim. Exercise will help you to unwind and de-stress.
Prioritise and Plan
In order to avoid panic, ensure that you plan your revision time effectively. Before you start on your revision, think about what it is that you really need to focus on. There may be some areas of a subject that you feel completely comfortable with and do not need to spend a great deal of time revising. Make a list of your priority revision tasks and insert those into your revision timetable first.Split up each subject area into smaller chunks and only revise one or two in each study session. This will guard you against the stress associated with not knowing where to begin, as well as giving you manageable goals and a sense of purpose.
De-stress Your Surroundings
Avoid watching television before bedtime or spending too much time on the Internet. Both of these will clutter your brain and tire your eyes. Whilst it can be effective to use these sources of entertainment as rewards and incentives for revision, try to cut down on time spent in front of 'the box' during revision period.
Most importantly, remember that panicking is counter-productive. Remind yourself that with a relaxed and focused mind, you will perform better. As well as those all important hours spent revising, take time to eat well, sleep well, exercise, plan, prioritise and relax. Looking after yourself in these ways will prepare you mentally for all those hours of concentration and help you to feel fit and confident when facing the exam.
You might also like...
Thankyou helped me so much with revision
brooke dixon
- 13-May-11 @ 3:56 PM
I need some help getting over stress
bradley
- 13-May-11 @ 2:25 PM
I think this is very helpful because it has helped me do well in my maths exam.
Joey
- 13-May-11 @ 1:04 PM