Revision Methods: Audio Tapes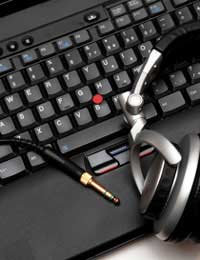 Recording and listening to audio tapes can be a fun and effective way to revise. As long as you have a portable music player and a pair of headphones, you can revise on the go. From walking to school to sitting on the bus; this method will help you to make use of time that might otherwise be wasted. Funnily enough, audio tapes are a particularly useful revision tool for auditory learners!
What Sort of Revision Are Audio Tapes Useful For?
Audio tapes tend to be most effective when used for learning a high volume of short pieces of information. You might like to make use of them to learn vocabulary for a foreign language exam, for example. They would also come in handy when committing mathematical formulas to memory, brushing up your knowledge of the periodic table or learning the names of each bone in the body. In short, audio tapes are highly effective in helping you remember facts, statistical information and subject-specific terminology. They are not so useful in helping you to revise arguments or complicated ideas and processes.
Learning a Speech or Presentation
If one of your exams is to be assessed by an oral presentation or a speech, the audio tape might just be your new best friend. Recording a tape on which you repeat your pre-written presentation clearly and slowly will prove invaluable. You should try to listen, listen and listen again to this at every available opportunity. You might even like to try speaking along with the tape. This will help the pattern and the rhythm of the words to sink in, helping you to learn your speech off by heart and to present it in a natural and fluent manner.
Repetition for Revision
If you are using an audio tape to learn complicated vocabulary or tricky terminology, consider creating a tape with a sizeable gap in between each word. In this pause, you will be able to repeat the work. Speaking each word, as well as hearing it, will ease your task of lodging the relevant facts firmly in your memory. This is particularly useful when learning vocabulary, as it will help you perfect your pronunciation.
Questions and Answers
To learn facts, statistics and other short snippets of information, try creating a tape in a 'Questions and Answers' style. For example, you might like to record the question, "What percentage of the human brain is make up of water?". Leave a pause for you to think and say the answer as you listen. After this pause, record the correct answer. Follow this up with another pause in which you could repeat the answer if you got it wrong on your first attempt.
Testing Yourself
Tapes can also prove an excellent means of testing yourself at times when there is no one else available to help you with your revision. You might like to take the time to record yourself explaining all that you know on a small section of a subject. Afterwards, listen through whilst consulting your notes or revision guide and see what you have left out. This will help you to see which areas you need to devote more revision time to.
With a tape recorder, a few blank tapes, a microphone and a little time, you can create valuable revision aids that you can make use of at just about any time, in just about any place. You might even like to embrace new technologies. Why not use a computer to record your voice and transfer the files to an mp3 player? This revision method requires a little preparation but that preparation time is sure to pay off when it comes to the exam.
You might also like...
I am just moving on to GCSE but I can't find a way to revise then I remember I learn by listening to things. So where can i get these tapes
bobi
- 3-May-11 @ 8:48 PM