Motivating Yourself to Revise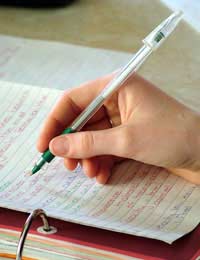 Getting to grips with your subjects through revision can be a rewarding and enjoyable experience. Despite this, understandably, most students struggle to get started. The key is to find an individual means of motivating yourself. You might do this though making use of time that would otherwise be lost, rewarding yourself and setting incentives or through thinking about the bigger picture. Find a method that works for you and call upon it before you begin each study session to ensure you are focused and ready to revise.
Make the Most of Your Time
Think about which areas of your day could be described as 'dead time'. This might be the hour after you return home from school when you usually end up channel-hopping or the hour before dinner when you might lurk about the kitchen expectantly. Put this time to good use and bring it alive by using it to revise.Some students choose to wake up early in the morning to study. A few hours work early on might even leave your whole day free to be enjoyed. This time is also likely to be quiet and peaceful, allowing you to concentrate on your revision. Don't be tempted to arise too early or go without breakfast though, disrupting your sleeping and eating patterns will only bring about stress.Set yourself a number of goals for each revision session and be sure in advance what it is that you are planning to cover. This will make your work more manageable and give you a satisfying sense of completion once your session is over. You might even like to write your goals down and cross through them with a pen once you are done.If you are concerned that you might be tempted to stray from your revision, tell a family member in advance that you have planned to study. You could ask them to check on you every so often to ensure that you are concentrating on the task at hand and have not fallen prey to distraction.
Reward Yourself
Giving yourself a five or ten minute break between each revision session can act as a form of reward. Have a small healthy snack or a drink of water during this time to reward your body and mind too.You might like to plan small treats for yourself to enjoy once a certain section of a subject has been covered. This might be an outing with friends, a game of sport or a favourite meal. You might also consider revising in the hour before you are due to go out and see friends, so that your reward is immediate! You might also think about planning a larger personal reward for after exam time. This might be a day playing your favourite computer game with a friend, for example. Keep your planned treat in mind when you need that extra bit of motivation. This will remind you that freedom is not far away and encourage you to put extra effort into your revision.Incorporating your hobbies into your revision will also help to boost your motivation. For example, if you like writing, why not try to remember crucial facts by moulding them into a poem?
Think About the Future
Think too about your long-term goals. You might have an idea about what you might like to study at university or what sort of career you might like to go into. Thinking about your plans for the future will allow you to see the big picture. It will also help you to understand that your studies are relevant to all that you wish to achieve in years to come. In working hard now, you will be investing in your future.
At the beginning of the revision period, you might find that motivation is hard to come by. However, once you have found the most effective way for you to personally motivate yourself, you can use this time and again.
You might also like...