Useful Materials for Revision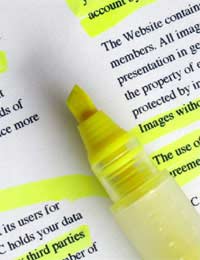 When it comes to the exam, it is likely that the only tools you will have are your brain and a pen or pencil. However, during the revision period, there are a whole host of materials that you can use to work with. The most effective tools are those which allow you to present information in new, imaginative and memorable ways and those which keep you organised.
Materials For Presentation
Linking together facts, arguments and ideas is essential for effective revision. Invest in a series of coloured pens, pencils or highlighters. With these, you will be able to devise your own colour-coding systems for individual subjects. Use them on flash cards, spider diagrams, sticky notes and pages of information in order to represent similarities and differences between different sets of information and to portray sequences, groupings and consequences.
Paper of all different shapes and sizes is also something to add to your revision shopping list. When it comes to spider diagrams, the bigger the better. If you can, get hold of some giant sheets of sugar paper and a set of permanent markers. Once you have created your charts and diagrams, you can put these on your wall using sticky tack. Smaller pieces of paper or card can be used to create flash cards. Try cutting up larger pieces to make your own. Sticky notes are useful too. You can present short pieces of information on these in a simple and clear manner and attach them to your doors and windows to ensure you are taking in information at every available opportunity.
Materials For Organisation
Choose a special notebook in which to jot down the titles of each of your revision sessions, along with your goals and objectives. Keeping these details in a permanent place will allow you to track your progress and reflect on all that you have learnt.
A revision diary is a must too. Use this to plan ahead and decide when and where you are going to revise in a given week and for how long. Alternatively, you might prefer to get hold of a large wall chart to construct your revision timetable upon. This will allow you to glance at several weeks and months at a time, gaining a clear picture of your revision schedule. Use a different coloured pen to write in the dates, names and locations of all your exams.
Other Helpful Materials
A comfortable chair and a well-lit desk or table are vital components of your revision environment. When your eyes and body are at ease, your mind will be free to think clearly. You might also think about using a ruler or another form of pointing instrument with which to follow the words on the page as you read. Sitting in front of large amounts of text can be overwhelming and using such an aid can lighten the strain on your eyes and on your brain.
All these materials can prove highly useful to your studies and they need not be expensive. Before you begin your revision, jot down a short list of all that you feel you need. Try to get hold of all your desired items in one trip, leaving you free to get down to some serious revision.
You might also like...