Completing Homework With a Friend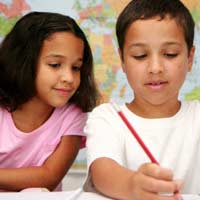 Studying with a friend can have many advantages. Working with someone else in the room can spur you on. You can encourage each other and bounce ideas around.
However, it can be difficult not to get distracted as your shared friendship can increase the temptation to stray from the task at hand. If you do choose to work with a friend, remember to discuss in advance what you both want to gain from the session and think about how it could be best structured.
Planning your Study Session
First of all, you should agree a place to study. If you choose to work at school or college, it is necessary to find somewhere quiet where you will both be free from distractions. At the same time, remember to pick somewhere where you are able to talk to each other and share your ideas without disturbing others. Many school and college libraries have rooms specially reserved for group work. Alternatively, you might choose to work at one of your homes. Many people have successful study arrangements, taking it in turns to visit each others house once a week in order to complete homework together.
It is helpful to set a time limit for your session. Agreeing on a specific amount of time to work for will encourage you to use your time effectively and to meet the deadline. You might also like to set yourselves personal 'homework' in advance. Each of you could prepare some relevant research in advance to bring to the session.
Making the Most of Working Together
If you are working on a project together, rather than working on separate tasks alongside one another, take a few moments at the start of your study session to share your ideas and talk through what needs to be done. You might find it useful to jot ideas and suggestions on a large piece of sugar paper. At this stage, anything goes. Next, look back on your ideas and discuss the pros and cons of each. This should help you to come to a friendly agreement on your joint plans for the piece of homework set.
Before you begin, you might also like to discuss which elements of the task you each feel confident with and which you suspect you will find more difficult. If elements of the task which you find personally difficult coincide with your friend's strengths, don't be tempted to let your friend complete these alone. Ask them to talk you through it. In this way, you can learn from each other. Remember that you are working together; ensure that you should be sharing ideas but not copying one another. Bear in mind that, for some homework tasks, it may not be appropriate to work with a friend. If in doubt, speak to your teacher.
Working with a friend can be hugely beneficial. The presence of another individual can help you to think in different ways, making group study an ideal method for projects that require a high level of imaginative input. It also offers the opportunity to practice articulating your ideas, helping you to polish your presentation skills. In this way, working with another helps you to complete work successfully and efficiently, whilst investing in your learning future.
You might also like...