Introducing Homework Clubs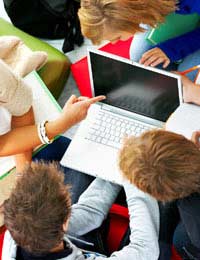 Joining a homework club can be a fantastic way to boost your motivation and ensure you complete your assignments on time. At the same time, they offer the opportunity to make new friends and to work in a stimulating environment. Staff are on hand to help you out and offer guidance, whilst many clubs have an impressive variety of resources on offer, helping you to get the most from your homework and build on your study skills.
How Do I Find Out About Local Homework Clubs?
First of all, ask your teacher if your school runs a homework club. Many hold homework clubs at lunch times or after school. If your school does not have its own club, the next step is to get in touch with your local authority or ask your parent or guardian to do so. Many councils run homework clubs at local libraries, offering you the chance to meet students from different schools. In most cases, you will be required to request a form which your parent or guardian will need to sign. They may also need to give their permission for you to have access to the Internet at a homework club. The majority of homework clubs run in term time only and most are free of charge.
What are the Benefits of Attending a Homework Club?
Many homework clubs offer resources that you might not have access to at home. Computer facilities and Internet access are useful for completing homework tasks. Many homework clubs have subscriptions to online reference services such as journal archives and encyclopaedias. These are invaluable when completing research tasks for a longer homework project. Trained staff will be on hand to help you navigate the systems, enabling you to build on your IT and online skills. Both school and library homework clubs often offer you access to an exciting variety of non-fiction reference books, magazines and CD-ROMs.
What are the Disadvantages of Attending a Homework Club?
Whilst homework clubs are great places to meet new people and work with others, this social aspect may not be right for you and your preferred style of study. You may be tempted to chat with other club members and consequently neglect your homework tasks. Some students find the timetabled nature of homework clubs to be a blessing as it encourages them to get their homework done at specific times. However, the dates and times of homework clubs may conflict with your extra-curricular activities. If this is a problem for you, working at home can offer more flexibility. It is also important to think about how you will get to and from your homework club. You might need to arrange to walk home or share lifts with friends.
Homework clubs offer fun and supportive environments in which to complete your homework. However, the availability of such facilities varies from area to area. It requires a little research, but find one that is right for you and it might just be the answer to all your homework stresses.
You might also like...