Setting Homework Goals and Objectives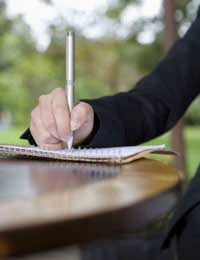 Setting homework goals and objectives is a sure fire way to ensure you get the most from your study time. When using your initiative in this manner, you can concentrate on improving your strengths and tackling your weaknesses whilst getting each individual task done. Encouraging and charting your personal progress in this way is both satisfying and beneficial.
Short Term and Long Term Goals
When setting yourself learning goals and objectives, think about both the long and short term. At the start of each academic year or term, you might like to set yourself goals for that learning period. This could be a general objective such as improving your use of punctuation in all your writing or something more specific like gaining a certain mark or reaching a certain level in a particular subject. It is also important to set yourself short term goals. Before you start a new project, think about what you want you want to achieve from it. Write down three goals such as:
I want to present my project in a clear and neat manner.I want to use a variety of different sources when carrying out research for my project.I want to work on my use of paragraphs within my project.
Write all goals down somewhere permanent. You might like to keep a separate notebook especially for this purpose. Always remember to review your goals and objectives at the end of the year or at the end of your project and assess to what extent you have achieved them.
It is good practice to set yourself a few objectives for each individual homework task too. Indeed, your teacher may set these for you. Make a quick note of them and keep them near to you as a reminder whilst you work.
Breaking Up Bigger Goals
When setting big long term objectives, it is helpful to break them up into smaller chunks. For example, if you wanted to work on your punctuation over the year, you could divide this into smaller tasks. You could set yourself the challenge of learning about a different punctuation feature each week and using that particular feature effectively in your homework. If you wanted to work on your essay skills over a term, you might like to focus on the introduction of one homework essay, the main body of another and the conclusion of a third.
Make the Most of Feedback
Any feedback given by your teacher is designed to help you progress. When you receive a marked piece of homework back, take a look at the areas where your teacher has suggested you could improve. If your teacher has noted a few spelling mistakes, that might be something you choose to work on. Similarly, the dreaded school report can also be your saviour. Look at the objectives your teacher has set you and design your goals accordingly. This offers you a great way to chart your success as your teacher will comment on how far you have improved in those areas in your next report. In addition, remember that you can always ask your teacher for extra help in setting your homework goals. You could ask them to mention specific goals for each homework task, or seek their assistance in making up long term goals for you based on their knowledge of your strengths and weaknesses.
Taking control of your own learning in this way will mean that those previously stressful homework tasks will feel like less of a chore. They are all part of your long term learning experience.
You might also like...