Questionnaire: What Kind of Learner Are You?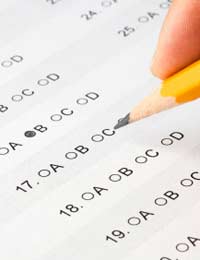 Knowing how your mind works is essential if you want to get the most benefit possible from your homework and revision.
Pinpointing your learning style is the first step. You will then be able to plan your study and revision sessions in line with this, ensuring that you engage in activities and draw on methods that compliment your personal learning profile.
Not only will this save you time and frustration, but it will help you to cement information and ideas firmly in your mind.
Take our short quiz, discover your learning style and unlock your study potential.
Q. If your teacher gives a lecture-style lesson, do you find it easy to recall the information afterwards?
A. Yes, sometimes I can even remember exact phrases and sentences that were used. It's as if I can hear the lesson again in my head.
B. I find it difficult if the teacher is just talking but, if key words or diagrams are displayed at the same time, it becomes a lot easier.
C. No, I find it almost impossible to remember what has been said. I often get bored in lecture-style lessons and lose concentration.
Q. Do you find that spider diagrams help you to understand and remember information?
A. Not particularly. Spider diagrams alone don't really work for me. If I talk through them and explain links out loud, they are more useful.
B. Yes, absolutely. If I revise them thoroughly enough, I can even picture them in my mind.
C. Yes, I find them really helpful. I get the most from them when I am actually drawing and creating them, thinking on the spot and working out the links between different ideas. It is fun to present them in interesting ways, too.
Q. When you meet someone new, how do you remember their name?
A. If I don't say it straight away, I will forget it. Referring to them by their name straight away and saying it several times helps me to commit it to memory.
B. I try to picture the word as it would appear written on a page.
C. I find it quite difficult to remember people's names. It helps if I try to imagine objects, or a series of objects, that sound like their name and making up a 'name story' in my mind.
Q. What is your favourite type of lesson?
A. I like getting into small groups and discussing ideas, listening to other students' points and voicing my own.
B. I enjoy watching a presentation or a documentary. I like doing other things too, like written comprehension or answering questions based on a diagram.
C. I love role plays and acting out ideas. I also like it when we are encouraged to play games. I really enjoy making posters and doing craft work too.
Q. Which phrase would you be most likely to use?
A. "Sounds good to me."
B. "I can really picture that."
C. "I can see myself doing that."
Your Results
Mostly As: You are most likely an auditory learner. You learn best through listening and speaking. Any learning activity that involves debate and discussion will work well for you. Writing, memorising and delivering imaginative speeches and presentations is something you might like to introduce to your study and revision schedule.
Mostly Bs: You are probably a visual learner. You like to see information presented on a page or screen. You respond well to diagrams, graphs and pictures. Try to carry a pen and paper with you wherever you go, jotting down useful information to help you remember it. If you find yourself in a lecture-style lesson, be sure to take notes and draw pictures and diagrams as you listen.

Mostly Cs: You are a kinesthetic or tactile learner. You work best through physical activity and personal exploration. If you feel that drama, games and crafts are not well represented in your classroom, you might like to have a word with your teacher and ask them to introduce some more active learning methods. If any of your classmates enjoy learning in a similar way, why not ask them if they would like to start a regular, informal homework group that celebrates creative, dynamic study?

Remember, it may be that a combination of learning styles suit you. Not everyone fits firmly into a single category. Take a look at the other articles in this section for suggestions on the best learning and revision methods for each style. Most importantly, take some time to find what works for you.
You might also like...