Homework Tips for Auditory Learners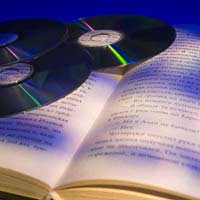 If listening and speaking are the two most important aspects of your learning experience, you are likely to be an auditory learner. Whilst these two learning methods are in no way alien to the classroom, you might find they are missing when it comes to completing your homework. Bring sound and song to all areas of your learning and you are sure to succeed.
Talk Things Through
In class, ensure that you are always fully participating in any discussion that might be taking place. Always ask questions if you are unsure of anything or need your teacher to explain something in a different way. After a lesson, take the time to talk through the ideas, concepts and arguments that were covered. As an auditory learner, you might benefit from getting together with a friend for an extra discussion or even joining in a talk with a larger group. You might consider speaking to a number of friends to arrange a regular session. If this is not possible, explain what you have learnt to a member of your family or even just to yourself. You might feel a little silly but, as soon as any embarrassment has passed, you will discover that this is the perfect learning technique. To get even more out of your study session, why not record yourself talking through what you have learnt? Making use of audio tapes in this way means that you will be able to listen again in order to review and revise the information.
Play With Sound
Wherever you can, try to turn visual information into sound. If you are reading in private, try to read everything aloud. If this is not possible, or if you are in a public place, moving your lips and silently forming the words will also help. As soon as you read or hear any new information, try to repeat it as soon as possible to help you to commit it to memory early on. You might consider creating raps and poems in order to help you learn complicated sets of information. Rhythmic patterns and snappy rhymes will work to your advantage.
Your Homework Environment
As an auditory learner, you might get the most out of your learning when you work to music. Playing your favourite CD might set the perfect tone for your study session and help you to focus. Only make use of this technique if you find it works for you; you may well find that listening to music whilst you work is distracting. Similarly, you might find that your mind easily wanders when you are working in a noisy environment and that the only sounds that help you are those directly connected to the information you are trying to take in.
The key is to experiment and to find what works best for you. As a visual learner, you will need to take the initiative and introduce sound into your study sessions. However, once you have developed a few helpful habits, they will begin to come naturally to you and your homework with flourish as a result.
You might also like...