Presenting Your Homework Project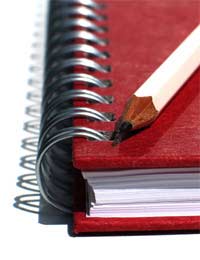 Once the content of your project has been decided upon, it is time to think about how to present your work. Whilst what you say or write it highly important, the way in which you say it or write it is vital too. Try to think about how you can go about making your project as engaging as possible; keep your reader or audience in mind at all times. A well presented project is sure to impress.
Presenting Your Project on Paper
If yours in a paper-based project, one of your key considerations will be to keep your work neat and clear for your reader but there are other things to think about too. You might consider presenting your work in the form of a book. You could bind your pages, stick them in a scrap book or keep them together in a folder.
Ensure that your front cover is eye-catching, with your name and project title written clearly. Find an interesting image or draw one yourself but do try to ensure that it is relevant to the content of your project.
Next, compile a full contents page with page numbers and page titles. This will allow your reader to instantly see which main areas your project covers and help them to locate any particular sections they are keen to re-read afterwards.
Ensure that each page is clearly numbered and that titles are used when necessary. Aim for a healthy balance of text and images. Whilst pictures are always beneficial, look too for other relevant images such as graphs, photographs, maps and diagrams. These will all add depth to your project and help to hold the attention and excite the imagination of your reader.
Take a few moments to compile a full bibliography for the back page of your project. This document will list all the books and research resources that you have made use of when completing your project. It will also offer ideas for further investigation into the subject, if your reader is keen to learn more.
Presenting Your Project in Person
Delivering your project in the form of a speech can be one of the most nerve-wracking experiences of your entire school career. However, it really need not be. With a little forethought and a fair amount of rehearsal, you can banish stage fright for good.
Try to think about interesting ways in which to present your ideas. As well as speaking, you might like to act out certain points. Try to use a variety of visual aids to enhance the experience of your audience. You might display important diagrams, graphs and pictures or show useful key words. Think about using a projector, a white board, or large pieces of paper for this purpose. You might like to use instruments, recorded music or sound effects to add variety to your presentation. You could also think about incorporating props into your talk.
Try not to read your presentation directly from your notes. It is important to maintain eye contact with your audience and reading in this way is likely to restrict your tone of voice. If you sound upbeat, your audience will be keen to hear what you have to say. If needs be, use small cue cards with short reminders on. Simply knowing that you have these to hand will boost your confidence. In you are concerned; practice, practice, practice. Devoting an adequate amount of time to rehearsal will help you to feel prepared and positive.
Thinking carefully about the presentation of your project will result in a polished and impressive finished project. It will signal to your reader or audience that you have taken care and pride in your work. It will also boost your personal satisfaction. After all, a homework project is a big undertaking so it is more than worthwhile to do it properly.
You might also like...
Really good quality information. I found it really useful for my homework. Thanks.