Constructing an Essay: the Introduction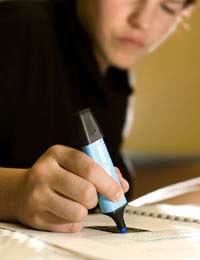 Like a good story, an essay should have a beginning, a middle and an end. All too often, students neglect the beginning. First impressions count and the introduction to your essay should be no exception. An introduction is vital because it both prepares and excites the reader.
Writing an effective opening paragraph will enable your reader to see where you are going with your essay from the outset, allowing them to fully engage with your argument. The best introductions also intrigue the reader, sparking their interest in the rest of your essay.Your introduction need not be long but you do need to write one. The following tips on penning your opening paragraph are sure to save you from that infamous essay writer's block.
Finding the Key Words
First of all, take a moment to step back and have a good look at the essay question. Which particular words jump out at you? These 'key words' will help you to think about what the essay question requires of you and where your introduction should lead. A useful trick is to highlight or underline the key words, or write them on a separate piece of paper. For example, let us imagine you are answering the following question:
"Does Shakespeare portray the character Hamlet as a blood-thirsty revenger or a sensitive philosopher?"
The key words here would be 'Hamlet', 'blood-thirsty revenger' and 'sensitive philosopher'. It is helpful to write down other words and ideas that jump into your mind when you look at the key words in order to get your ideas flowing. Later, when you come to stating your argument or thesis, effectively incorporating these words into your introduction will immediately signal to your reader that you have thought about the terms of the question and are tackling them head on.
Intriguing the Reader
It is essential to grab your reader's attention in the first few sentences of your essay. You can achieve this by opening with an interesting fact, statistic or quote. For example, if you were answering the question above and wanted to argue that Hamlet was a 'sensitive philosopher', you might begin your answer with a quotation which portrays him in this way. Caution should be exercised here; only ever include information that is relevant to your argument and to the content of your essay.
Stating your Argument
It is important that your reader is aware from the outset just what you will be arguing in your essay. This will ensure your essay is clear and persuasive. Using the key words, briefly summarise your argument in just one or two sentences. Following the above example, you might write, "Although Hamlet can at certain points within the play be seen as a blood-thirsty revenger, for the most part he is a sensitive philosopher. He is intelligent and emotional and delays taking revenge." As you can see, the question has been answered in the first sentence and, in the second, the essay writer's personal argument has been developed.
Introducing your Evidence
After catching your reader's attention and stating your argument, an effective introduction should introduce the aspects of the subject or the evidence that you plan to examine in the main body of the essay in order to support your case. Again, this section does not need to be lengthy; a single sentence will suffice. Continuing with the Hamlet theme, your next sentence might read, "This can be seen through an examination of Hamlet's procrastination, his use of philosophical language, his pensive soliloquies, his role as a university student and his alienation from other characters within the play." This is the final step in writing your introduction. Your reader is engaged, has a full understanding of your case and is prepared to see how the points in the body of your essay support your argument.
Essentially, writing an introduction is like revealing your essay plan to the reader. This simple process takes just a few minutes and will help to ensure that your essay is clear, persuasive and impressive. Try to get into the habit of writing your essay introductions in this structured way, but remember that this framework leaves room for a little creative experimentation and fun too.
You might also like...