Essay Skills: Useful Words and Phrases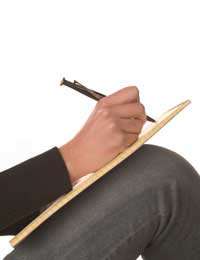 Everyone knows that a successful essay will educate the reader, argue a point confidently, compare and contrast ideas, follow a coherent structure, convey knowledge of key facts and portray an understanding of relevant concepts and issues.
However, when it comes to essay writing, the age old phrase 'easier said than done' comes to mind. It can be difficult to keep all these aims in mind at once and even trickier to meet them.
Thinking carefully about the words and phrases you use in your essay can ease your task. Certain words and phrases instantly facilitate argument, comparison and a display of specialised knowledge.
Create your own 'word bank' and draw from in whenever you feel an attack of writers' block coming on. We've put together some ideas to get you started.
Argumentative Writing
Skilled essay writers argue a point expertly, backing up their thesis with relevant examples. It is important to maintain a balance between the persuasive and the considered, drawing on the following words and phrases is a helpful shortcut.
Use words and phrases such as: arguably, it could be argued that, surely, what is more, besides, above all, furthermore, not only...but also, in fact, yet another, especially, particularly, chiefly, in particular, mainly, mostly, moreover, additionally, in other words
Comparing and Contrasting
Much of your essay's discussion will focus on comparing and contrasting arguments or weighing up the comparable relevance of factors. Using comparative and contrastive language will help you to ensure that you are on the right track.
Use words and phrases such as: in stark contract, in contrast, to compare, on the one hand, on the other hand, another way of viewing this is, alternatively, rather, another possibility is, another alternative is, conversely, on the contrary, although
Structure and Flow
It can be surprisingly difficult to create an essay that flows logically and follows a coherent structure. Such a format is hugely important in aiding the task of the reader, allowing your knowledge and understanding to take the foreground. Most importantly, it is vital to ensure that all your points and paragraphs are arranged in an appropriate and coherent sequence. Once the sequence is all in order, consider making use of structuring words and phrases to boost the clarity and 'readability' of your essay. A number of these can be particularly effective at the start of a sentence or paragraph. Others are more useful for linking ideas within a sentence or paragraph.
Use words and phrases such as: firstly, secondly, thirdly, lastly, however, furthermore, in addition, nonetheless, and, so, therefore, in short, in conclusion, as a result, for example, this is proved by, next we will look at X, X must be considered
Factual Understanding and Subject Knowledge
Using carefully chosen evidence in order to back up your argument will reveal your understanding of the subject area. So too will an employment of specialised terminology relevant to the topic you are discussion. Before you begin your essay, you might like to list all the concepts and terms which relate to your topic and attempt to include them in your work.
It is, of course, not necessary or even desirable to use all the above words and phrases in one essay. However, experimenting with such tools will help you to familiarise yourself with them. Soon, your essay word bank will be firmly fixed in your memory and open to being drawn upon whenever you need to inject a little energy and structure into your written work.
You might also like...