Should I Reward My Child for Completing Their Homework?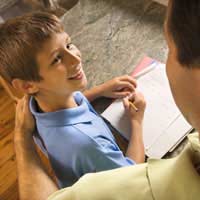 Rewarding children for completing homework tasks is a controversial motivational method and must be approached with care. A reward system can have its advantages, boosting a child's productivity, allowing them to get to grips with the use of goals and objectives and encouraging them to invest pride in their work. At the same time, introducing rewards for homework can be highly dangerous. Students need to be motivated, but in a healthy, sustainable manner. Get the balance right: find a system that works for you and your individual child.
Short-term Versus Long-term
Rewarding children for completing homework tasks can admittedly bring about clear-cut, quick results. If a child is expecting a reward, it is likely that they will complete their work on time and hand it in by the headline. However, they may rush to finish a piece of work and not stop to learn from the task and to find enjoyment in it. In this way, a reward system can prove to be just a short-term solution with detrimental long-term effects. As a result, you might feel that rewarding a child for completing individual tasks is unwise. Instead, you might consider rewarding them at the end of each term for their homework success over the previous weeks and months. This will allow them to focus on the tasks they have been set. This will also encourage your child to assess their long-term academic progress and to feel a sense of achievement.
The Rewards
Rewards of money or toys are generally to be avoided. Such rewards are completely removed from the realm of homework and from your child's education. Frequently rewarding your child with material gifts may hinder the growth of their self-motivation. In addition, such rewards may cause conflict between your child and their class mates, as many children with receive no rewards at all. If you choose to reward your child in this way, it might be better to save big treats for large homework projects or exam results.
Rewards need not be material or expensive. If your child is experiencing trouble motivating themselves to complete individual tasks and hand them in on time, you might consider developing a reward chart. Use stars or stickers to chart your child's homework efforts and successes. Take the time to praise them for completing their work and allow them to put the star or sticker on the chart themselves. This moment can act as a mini-reward. Your child can then collect stars or stickers and work towards a target number. Once this number has been reached, give them a reward that you have agreed upon in advance. This might be an educational trip or some fun stationary. Connecting rewards to your child's homework and education can be a healthy long-term option. Alternatively, you might like to reward them with a relaxing treat. For example, you might give them permission to have a few friends over for a film night or to host a computer game competition.
Ideally, your child needs to understand that the sense of satisfaction experienced upon completing a large or challenging tasks is a reward in itself. A healthy reward system will allow them to see that their education is something to embrace and make the most of. They will learn that studying should be viewed as a beneficial gaining of knowledge, skills and understanding and that self-motivation is key. Short-term, material or monetary rewards may only impede this.
You might also like...