Homework Clubs: A Case Study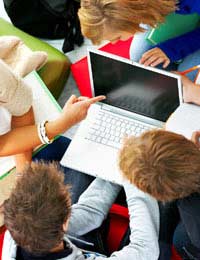 Homework clubs are popping up all around the country, with more and more students opting to attend them. Most frequently run in schools and local libraries, they offer students a quiet and safe place to work on homework tasks. To find out more about the realities of such set-ups, we interviewed Imogen Smart, co-ordinator of a homework club based in a North London local library.
So, Can You Tell Us The Basics About Your Homework Club?
"Well, the club is open on Mondays, Wednesdays and Fridays and Fridays, during term time from 4pm until 6pm. Students of a variety of ages attend the club. Our youngest is just 7 and the eldest is sixteen. The children have to fill out a simple form in order to come along, which needs to be signed by their parents. Importantly, it's free to join. Our job is simply to give local children a comfortable and stimulating environment in which to complete their homework."
What Sort of Resources are Offered to Students?
"The homework club boasts a wide range of resources. That's the great thing about a homework club; students can get their hands on a wider variety of resources than they would be able to at home. Many of the children who come to the club don't have Internet access in their homes.
"Here, they can surf the web and research homework projects in detail, whilst improving their I.T. skills. The students are encouraged to search the library shelves for books that might be relevant to their studies. Many choose to browse these for reference purposes in the library but, following the opening of the homework club, we've also seen an increase in book borrowings amongst the young.
"Assistants are on hand to help students get to know the classification system we use here. We also show them how to navigate the online library catalogue so they can quickly search for books on a given topic. Increasingly, we are purchasing educational DVDs and audio CDs. These are proving very popular, especially during the revision season!"
Do Students Work Hard at the Club? Is the Environment Ever Distracting?
"You'd have thought that getting a large number of children together in one room would result in endless chatter and misbehavior but this is not the case at all at the club.
"The students come along to work and are conscious of the fact that they are here to learn. It's a fun environment but it is also a hardworking environment. If one child is begins to lose concentration, their friends will often help them out or encourage them to press on with their homework task. Occasionally, the noise levels do rise a little but an quick, informal reminder ensures that the chatter volume returns to one in which everyone can get on with their work."
What Are the Key Advantages of a Homework Club?
"Most importantly, attending the club helps students become accustomed to working independently and improve on their learning skills. Yes, we provide them with a comfortable working environment but they have to personally motivate themselves to attend. The club also encourages the young to view their homework seriously and to take pride in their work. You'll see students spend a fair amount of time on one task, putting in the effort and thinking conscientiously."
If you're thinking of joining a homework club, why not give it a go? You may just find that attending one solves all your study stresses.
You might also like...